When searching for senior living for your loved one there's so much to consider. There are the accommodations, the food, the amenities and services available, the activity options and the location just to start. It can easily become overwhelming and much of it is subjective. For example, what feels like a welcoming environment to you may not at all for another family. Bells and whistles aside, what's most important is the care and attention your loved one will receive. Fortunately there is a clear indicator of this: the caregiver to resident ratio. Learn what it is and why it matters so much as you determine the best senior living option.
Caregiver to Resident Ratio Explained
Quite simply, the caregiver to resident ratio shows how many residents each staff member is charged with caring for at a given time. It's important to understand that there's no national standard for this in assisted living. So, you'll see this number vary greatly across communities with some even as high as one caregiver to 20 residents! However, the fewer residents in a staff member's care, the better the quality and personalized attention you can typically expect.
Why Less is More
One of the biggest concerns for families as they consider traditional senior living is the institutional feel. This is particularly true on large campuses and in situations where staff members are stretched thin. The result can be that care becomes more of an assembly line than a relationship-based experience.
An alternative to this is residential care, or as we refer to it: boutique senior living. Our residential homes are specially crafted for assisted living with 16 residents at most and a nearly unheard of 1 to 5 caregiver to resident ratio. This means your loved one will have personalized care 24/7 by caregivers who really know them and their everyday needs and preferences. In our homes, doctors also visit onsite and a nurse oversees the daily plan of care implemented by our experienced CNAs and caregivers to ensure quality care.
In addition, rather than navigating between multiple buildings on a large campus, residential care offers a homelike environment – residents even share meals family-style on a handmade farm table! But that doesn't mean your loved one will sacrifice the amenities of large senior living communities. Our homes offer at least 4,000 square feet of living space with private and semi-private rooms, laundry and cleaning services, complimentary Wi-Fi, beautifully landscaped grounds, transportation, activity programs, group outings and live entertainment. In fact, we find that many of our residents thrive in this smaller setting where they are more comfortable and actually take advantage of even more of the amenities and activities than they may have otherwise!
As part of our care approach, we also offer features such as fall alert pendants and keypad entry/exit access and state-of-the-art video monitoring outside and in common areas so you can rest assured in your loved one's safety.
Always Check Caregiver to Resident Ratio
We feel our 1 to 5 caregiver to resident ratio helps us to offer the best possible care and attention and work hard to maintain it, so you'll see if proudly referenced by us. But for some senior living communities, the number may be harder to find. So always make sure you ask any community in which you are considering for your loved one. In addition, ask whether the ratio remains the same at all times of the day like ours. In some cases, it can vary dramatically between daytime and nighttime hours. Lastly, check what the caregiver number includes, is it strictly professionals who interact with and care for your loved one as in our case, or does it include other staff such as administrative staff or other ancillary services?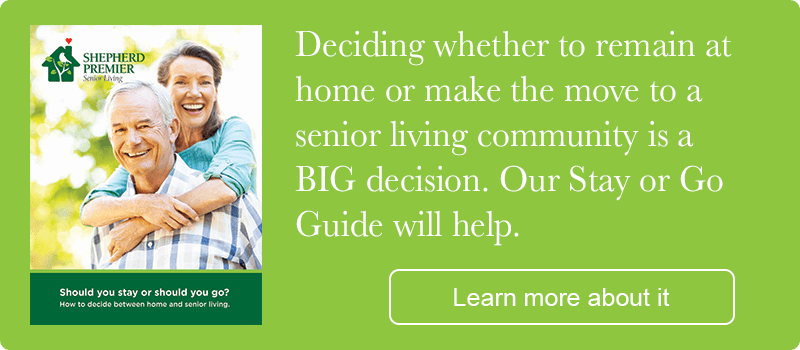 We are here to support you in finding the best senior care option. For more information on caregiver to resident ratios or to schedule a virtual tour, call (224) 333-6247 to speak to a team member.