Has your loved one had a recent health scare? Is a chronic condition worsening? Are you concerned about their safety at home alone? Is it becoming harder for them to manage the household or their personal hygiene? If the answer is 'yes' to one or more of these questions, you may be considering assisted living for them. Making this decision is never easy, but you may not realize that there is an alternative to large, traditional assisted living communities. Learn about the benefits of assisted living in a residential setting known as boutique senior living.
What is Assisted Living?
First, let's define exactly what assisted living entails. Assisted living includes housing and support with daily activities such as bathing, dressing and medication while helping residents maintain their independence and enjoy life. Onsite medical care is also available when needed.
Assisted living features may include:
Comfortable, spacious accommodations
24-hour supervision and security
Daily meals
Housekeeping and laundry service
Exercise programs
Activity programs
Transportation
Assisted Living is offered in these types of settings:
A stand-alone assisted living community, which may also be on the same campus as other types of senior living
A residential home care environment such as boutique senior living
Assisted Living in Boutique Senior Living
Assisted living in a residential setting such as boutique senior living offers a smaller, more homelike experience closer to what your loved one is familiar with at home. That alone may seem like benefit enough, but there's much more.
Personalized Care
Likely the main reason you're considering assisted living is so your loved one can have the support they need to thrive. That's actually one of the greatest benefits of a residential setting. Our boutique senior living homes offer a 1 to 5 caregiver to resident ratio. That's practically unheard of in large assisted living communities where the ratio could be up to 1 caregiver to 20 residents. With us, your loved one will have personalized care 24/7, provided by experienced CNAs and caregivers who really 'know' them and their individual needs and preferences. Doctors also regularly visit onsite and a nurse oversees the daily plan of care implemented by our CNAs and caregivers.
Homelike Feel
Going from a familiar, cozy home to the institutional feel of a large campus with multiple buildings and/or high-rise structures, not to mention 100s of new 'neighbors' in some cases, can be overwhelming for anyone. Some just never get completely used to it. On the other hand, boutique senior living gives your loved one the opportunity to remain in a residential home with only 10 to 16 residents max. The décor, the intimate settings like family-style meals on a handmade farm table and the location in a residential neighborhood in the heart of a small Midwestern town make the transition much easier.  What's more, each of our homes is at least 4,000 square feet so your loved one still has ample space for themselves with private and semi-private accommodations available. 
Enrichment
Loneliness and isolation are big concerns for seniors who live at home alone. So you might think a large assisted living community with plenty of residents and activity options is the answer. But unless your loved one is truly an extroverted personality, they may feel lost in this setting. Plus if associates are stretched thin – remember those caregivers to resident ratios – they have less time to encourage participation and help your loved one connect. The smaller setting of boutique senior living offers a comfort zone for residents, and many actually take advantage of even more activities than they may have otherwise! But the smaller setting doesn't mean fewer options; our activity programs feature daily exercises, socialization, cognitive stimulation and immersive activities as well as group outings and live entertainment just like the large communities.
Amenities
It may seem that large assisted living would surely have an edge on the amenities offered to residents. Not at all! Your loved one can still enjoy the benefits of beautifully landscaped grounds and home gardens, three home-cooked meals and snacks daily, flat-screen televisions with basic cable, laundry and cleaning services, complimentary Wi-Fi and transportation for appointments, shopping and scheduled outings. And we have plenty of room for the family to visit our homes anytime! What's more, while our homes are located in quiet, residential neighborhoods they are all near public transportation, shopping, dining, places of worship, outdoor recreation and any type of service you or your loved one might need.
Assisted Living Benefits for the Family
The benefits of assisted living in a residential setting also extend to our families too. The 24/7 staffing and 1 to 5 caregiver to resident ratio gives you peace of mind your loved one has the attention they deserve. In addition, we also offer the safety technology of large assisted living communities such as fall alert emergency pendants, state-of-the-art HD video monitoring outside and in common areas, as well as advanced keypad security access in and out to make sure residents are safe and secure. 
Lastly, it's common for families to feel guilty about moving their loved one to assisted living. Yet in boutique senior living you can ease that guilt in knowing not only does your loved one have the care they need, they have plenty of opportunities to enjoy life alongside a close-knit group of residents and caregivers who are like an extended family.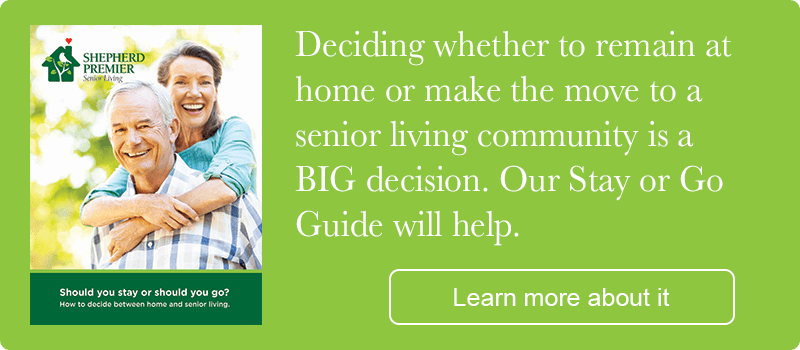 For more information on the benefits of assisted living at Shepherd Premier or to schedule a virtual tour, call (224) 333-6247 to speak to a team member.