Most of us want to live independently for as long as possible, no matter how old we are. There are plenty of elderly individuals who are perfectly capable of living on their own, however, our mental and physical faculties are eventually going to break down. It can be a challenge to figure out when it's time for memory care.
At Shepherd Premier Senior Living in Crystal Lake, Illinois we know that it can be difficult to have that conversation with a loved one when the time comes that they can no longer properly care for themselves.
Keep reading to learn more about some of the signs it's time for memory care and how you can get them the help that they need when the time comes.
Memory Loss and Getting Older
In the United States, more than 16 million Americans provide unpaid caregiving services for individuals with Alzheimer's or other dementias. Since the disease continues to progress, caring for an individual with memory loss becomes increasingly demanding. Over time, this can negatively impact the caregiver's quality of life, their ability to work full-time, and their stress levels, which can lead to what's called caregiver burnout.
Memory care facilities offer professional, round-the-clock care for your loved one so that they can get the help that they need to live their life without having to burden their family members with taking care of them. While instinctively we might want to be there to care for our loved ones as they get older, we simply can't provide them with the level of care that professional memory care facilities can.
Alzheimer's Disease and Dementia
Alzheimer's disease and other types of dementia typically develop in stages. The early stages may not require that care be provided in a memory care facility. However, as the disease progresses, more and more care is needed, and sufferers are typically unable to live at home.
Sometimes, family members may confuse signs of Alzheimer's or dementia with normal signs of aging. While the two might seem similar in the early stages of Alzheimer's or dementia, as their condition you may begin to notice more and more issues, which could be a sign that they can no longer live on their own and need memory care.
For example, as we get older we tend to lose things or forget where we put them on occasion. Someone suffering from Alzheimer's or dementia will lose or misplace things regularly.
What is Memory Care?
A memory care community provides your loved ones with access to trained professionals who can provide your loved ones with the support they need, along with professional care that may slow the rate of cognitive decline.
Memory care communities also provide a place for your loved ones to make new friends and participate in fun activities while not feeling like they are trapped in their homes.
Signs it's Time for Memory Care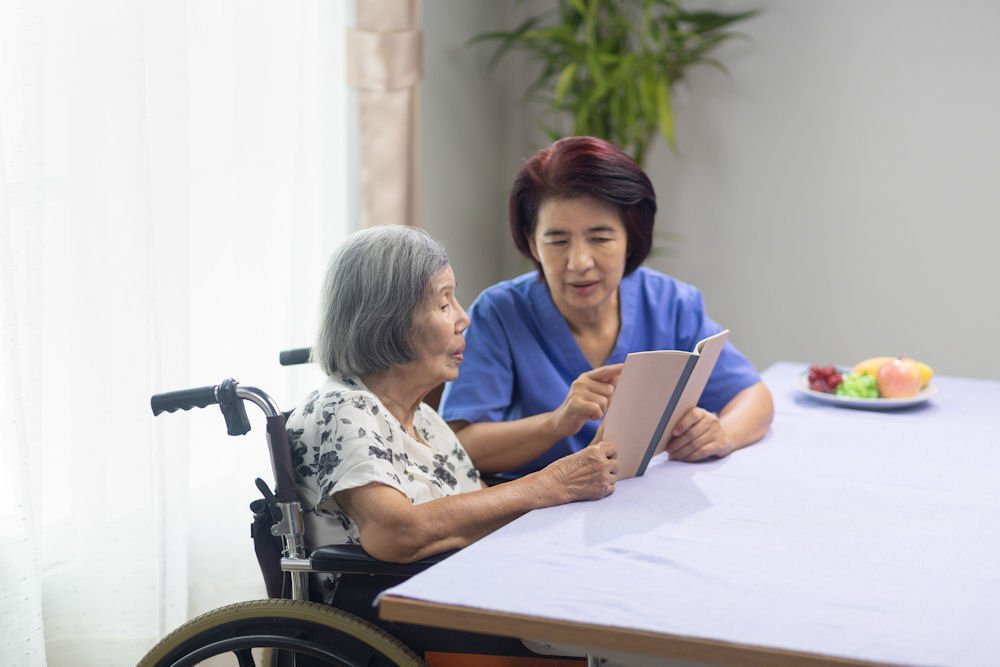 To overcome caregiver burnout, many people turn to memory care for their loved ones. It's a difficult decision to make but often is a necessity. Memory care can provide 24/7 support and a community of friends for your loved one. It can be challenging to know when to make the transition from at-home care to professional memory care.
Let's take a look at some signs that it might be time to start considering memory care for your loved one.

Ignoring Personal Hygiene

If you begin to notice that your loved one is starting to neglect their hygiene, it might be a sign that they are no longer able to properly take care of themselves. Being unable to perform even basic tasks such as bathing, brushing their teeth, and putting on fresh clothing can also be a sign of a larger issue such as Alzheimer's disease or another type of dementia.
Making Mistakes with Medications and/or Missing Doctors Appointments

As we get older we typically have to take more and more prescription medications daily to address the various ailments and issues that come with getting older. To stay up-to-date on these prescriptions, frequent doctor visits are also a requirement.

Someone who is no longer able to properly care for themselves might start forgetting to take their medications or start missing doctor's appointments. In some cases, they might even forget how much of their medication to take and overmedicate. Failing to take their medications, taking too much, or miss doctor's appointments can be detrimental to their health and lead to additional medical complications.
Struggling With Their Daily Routine

Keeping a daily routine is part of our everyday life. However, as we get older performing these seemingly simple tasks can become more of a struggle. If a loved one is struggling, unable, or even ignoring their daily routine, it might be a sign that they can no longer live on their own.

Some examples of struggling or failing to keep up with their daily routine include:

Inability to keep their home clean
Not opening their mail
Not paying their bills
Forgetting to take out the trash
Forgetting to go grocery shopping
No longer making meals for themselves
Not getting dressed or dressing appropriately for the weather
Not Knowing Where They Are/Wandering

A crucial sign that a loved one might be struggling in their old age is if they start finding themselves struggling to know where they are or they begin wandering around more. Getting easily lost, confused, and wandering around can be a sign that they are suffering from Alzheimer's disease or dementia. It can also be dangerous and put them at added risk.

If they are wandering around and don't know where they are or how to get back home it can increase the risk that they might fall and get hurt, become dehydrated, or be exposed to weather conditions that they might not be properly dressed for.
Unsteadiness

The older we get, the harder it becomes to get around. Suffering from Alzheimer's or dementia can make it even easier to walk to stand. Unsteadiness when standing or walking can lead to an increased risk of falling which, in turn, can lead to severe injuries or even death. Showing signs of unsteadiness or shaking while standing or walking might be a sign that it is time to transition into a memory care facility.
Isolation

A side-effect of old age that often gets overlooked is depression and social isolation. When a loved one gets older and can't do many of the things that they have been accustomed to doing in their life, it can make them feel sad and depressed. Since it is now harder for them to get around, it also makes it harder to get together with friends and be around other people.

By living in a memory care facility, your loved one will have the opportunity to be around others and socialize as much as they want. They can participate in daily activities and events and eat their meals with others. Any sort of social interaction can improve their mental, emotional, and physical health and well-being.
Changes in Mood and Personality

Someone suffering from dementia or Alzheimer's might experience severe changes in their mood or personality as the day goes on. This can lead to outbursts of anger and agitation. These changes in mood and personality can be difficult to deal with if you aren't professionally trained in handling these types of situations. The staff at a memory care facility is specially trained in dealing with situations such as this, which can make the entire process easier for all parties.
Caregiver Stress

While we want to be there for our loved ones and don't want to see them struggle, there is only so much we can do as untrained caregivers. This can cause us to feel overwhelmed which can lead to added stress and burnout.

The more stressed and overwhelmed we feel trying to help out loved ones, the less effective we become in our role as a caregiver. The added stress can also take a toll on our own physical and mental health.

If a time comes when you feel that you simply cannot be an effective caregiver for your loved one anymore, the best thing you can do for both you and your loved one is to turn over their care to professionals at a memory care facility.
Receive Memory Care at Shepherd Premier Senior Living
Watching a loved one struggle to go about their daily life in their home can be a struggle. It can also be difficult when the time comes to have that conversation with them about moving to a memory care facility.
At Shepherd Premier Senior Living, in Crystal Lake, IL, we understand the difficulties involved in watching a loved one struggle to continue to live on their own. That's why we offer memory care facilities throughout Illinois so that you can have the peace of mind of knowing that your loved one is in good hands with us.
To learn more about our senior living facilities, or to schedule a tour of a facility near you, contact us today.