When deciding what senior living community offers the best fit for you or a loved one, there are many factors to consider. Does it have the amenities you want? Are activities offered? And perhaps one of the more emotionally driven questions to ask is, is it pet-friendly?
Pet-friendly assisted living provides seniors with a host of benefits. This is especially true for senior citizens who have a pet at home and are ready to make the transition to assisted living. A pet-friendly living community allows seniors to make that transition without having to part with their furry friends.
Living with a pet offers many benefits to seniors, especially those suffering from Alzheimer's. It helps to build self-esteem, lift spirits, and improve cognitive alertness. Having a pet in an assisted living facility can help reduce depression, lower stress levels, and bring joy and companionship to the pet owner.
When pet owners have a pet by their side, they are less likely to feel lonely, isolated, or depressed. Studies have even found that pet ownership can reduce arthritis pain and help pet owners stay healthy and active.
Can You Have Pets in Assisted Living Facilities?
If you are wondering whether or not pet-friendly assisted living exists, the answer is yes! Although pet rules and regulations vary from one assisted living facility to another, many pet-friendly facilities are now allowing senior pet owners the chance to live with their furry four-legged friends.
Assisted living that is pet friendly may allow pets, but it is important to understand that this will likely come with guidelines. Most pet-friendly assisted living centers will limit the number of pets that a resident brings. This is due to pet allergies of other residents and pet-related noise or mess that could make the facility uncomfortable. Other common guidelines may include the following:
A pet deposit: A pet deposit may be required to cover pet-related damages or pet mess that may need to be cleaned up.
Leash and tag requirements: Pets may not be allowed to freely roam the facility, so they must be on a leash when outside of the room. In addition, pets must have identification tags with their name and owner's contact information attached at all times.
Type of animal, breed, and temperament restrictions: The type of animal, breed, and temperament may be limited or restricted to ensure the pet is suitable for a senior living environment. Further, all animals will likely be required to have proper training and be housebroken.
Vaccination records: To ensure the safety of the pet and all residents and staff, pets must have current vaccinations and pet owners must provide copies of pet medical records upon entering the facility.
Pet caretaker: If a resident is unable to care for their pet on their own, a pet caretaker may be required to provide pet care, pet-sitting services, or pet grooming.
While there are many benefits of pet ownership, there are many practical aspects to consider as well. For a complete list of pet regulations, pet owners should consult the pet policy of their senior living facility or contact the pet-friendly assisted living administrator.
The Benefits of Assisted Living With Pets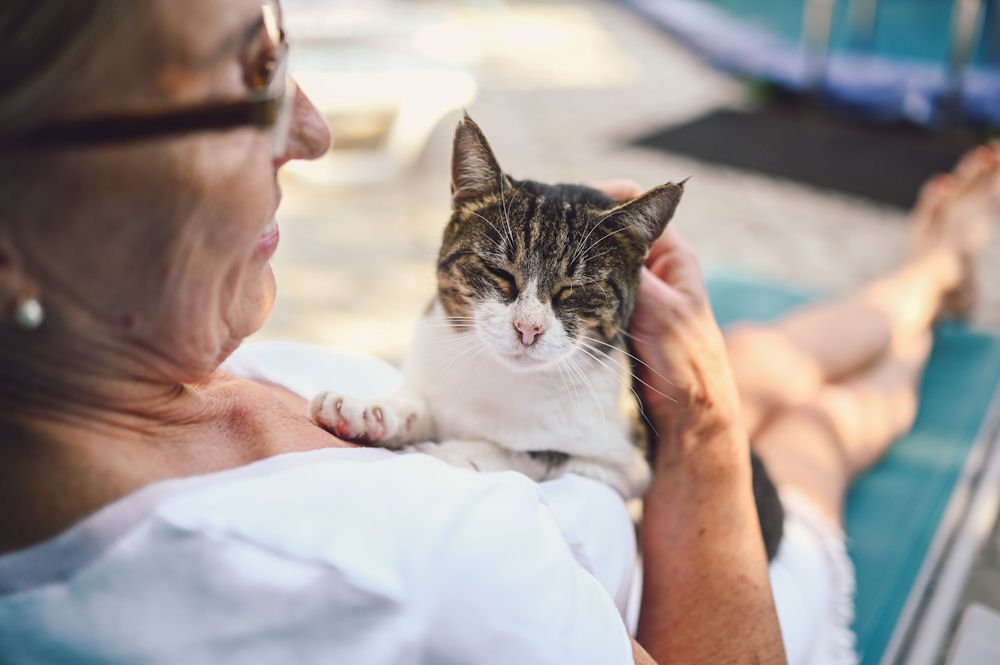 Pet ownership can provide many benefits to older populations. The impact that a pet has on the life of a senior in assisted living can be significant and lead to an increase in the senior's quality of life. Being able to pet and interact with a pet can provide seniors with comfort, security, companionship, and an increased feeling of purpose. Other benefits include the following:
Things to Consider Before Bringing Pets to Assisted Living
Bringing a pet to an assisted living home, even if the assisted living community is pet friendly does require some consideration. Rehoming a pet to live with a relative or friend may not be ideal, but if pet parents cannot dedicate the time and resources to care for their pet themselves in assisted living, it can be a kinder alternative.
Before bringing a pet to a pet-friendly assisted living home, seniors should consider the following:
Caring for a pet comes with financial responsibility. This needs to be considered along with the cost of senior living in general. Pets require their food, toys, bedding, and other amenities. The costs of these items can all add up over time and owners should be prepared for these costs.
The American Society for the Prevention of Cruelty to Animals (ASPCA) estimates that new dog owners spend between $1,100 and $3,200 in the first year of ownership alone. This includes the cost of vaccinations, sterilization, and pet supplies. After this initial amount, you can expect to spend anywhere from $600 to $4,000 a year on your pet.
The amount of money a pet will cost to care for differs depending on many different factors. For example, some breeds of dogs are more prone to certain diseases or conditions which may require more vet visits or additional pet supplies.
Though pets provide many benefits, physical and emotional, they require a lot of care that some seniors may not be able to provide. Seniors with limited mobility, health concerns, or memory-related issues may struggle to take care of a pet that requires a lot of physical energy. This can make it difficult to care for an animal such as a dog which needs a lot of physical activity.
Cats can be a good alternative for those who do not have the energy to care for a dog. However, a cat still comes with a fair amount of work such as litter box cleaning, feeding, and playing. Seniors need to consider their physical abilities when deciding whether or not a pet is right for them.
In assisted living communities that allow pets, there may be pet care services available. These can include pet grooming, pet walking, and even pet sitting. This allows seniors to enjoy the companionship of a pet without having to worry about all the work that goes into pet ownership. Finding out if the community you are moving into has these services available can be a great way to make pet ownership easier.
A pet is a long-term commitment. Certain breeds of dogs and cats can live up to 20 years. This means that pet owners in assisted living will need to make sure they plan for the pet's long-term care. This includes having a pet-friendly home, food and money for medical expenses, and pet insurance if it is available.
Making these arrangements ahead of time can help ensure that seniors have peace of mind knowing their pet will be cared for should they become unable to. Speaking with friends or family to determine if they are willing to take the pet into their care if need be is also a good way to prepare for the future of the pet.
Assisted Living with Shepherd Premier Senior Living
If you or someone you love is looking for senior living that provides quality care, look no further than Shepherd Premier Senior Living in Crystal Lake, Illinois. To learn about our senior living homes and the care we provide, contact us today. We understand the dignity and care that elders require and strive to help them remain independent and enjoy life. Contact us today.