Get Your FREE Guide: The Future of Senior Living Marketing
Share this comprehensive guide with your colleagues and sales team to get your community's digital marketing where it needs to be.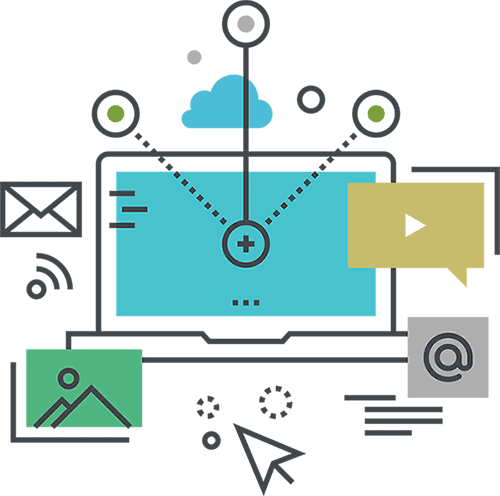 Click on any section title to scroll directly to it.
1. Understanding boutique senior living
As we age and begin to need help with daily activities, you may think that means choosing between care at home which can be costly or moving to traditional senior living which can feel institutional. Not so fast. You do have another option to consider. Boutique senior living is an alternative that's gaining in popularity for blending the comfort of home with the care and amenities of senior living.
Learn more about what boutique senior living offers and how its differences can benefit you or your loved one in Boutique Senior Living: The Senior Living Alternative You've Never Heard Of.
The COVID-19 pandemic shows no signs of slowing anytime soon, yet if your loved one needs more care than can be provided at home you may be worried about their safety in a senior living setting. Although the senior living industry as a whole is going above and beyond to protect residents, it's understandable to be concerned about the multitude of residents (andstaff) in large communities that your loved one may be in contact with. Your loved one is, after all, in a high-risk category as a senior.
On the other hand, our boutique senior living homes have just 16 residents max. This small setting offers tremendous peace of mind for our residents and their families! What's more, our 1 to 5 caregiver to resident ratio, which is nearly unheard of in the industry, can also help reduce exposure as those caring for your loved one are interacting with fewer people. Find out more in Why Boutique Senior Living Might Be Your Safest Choice During Covid-19.
3. What about amenities and services?
Traditional senior living communities often tout extensive amenities and a worry-free lifestyle as some of their biggest selling points. Unfortunately, those benefits come with a large campus that requires navigating between multiple buildings and/or institutional feeling high-rise structures. Not to mention 100s of other residents and stretched-thin staff!
But there is an alternative: residential care.
Here you'll find the same amenities plus the comforts of home, but without the hassle. Everything from the setting, to the crowd (or lack thereof) to the care, dining, life enrichment and more—keep reading to see how residential care compares at Comparing The Amenities in Residential and Traditional Senior Living.
4. Bigger isn't always better
Change is never easy but moving from home to senior living is likely one of the biggest transitions you or your loved one will make. Aside from the logistical challenges of downsizing and making the move, there's the emotion and fear of the unknown that also comes with it. Some of the most common fears for seniors are losing their independence, having to depend on strangers, being isolated and being lonely. Unfortunately, these fears can prove to be very real challenges for some when moving to a large senior living community. Here's what you can do.
Traditional Senior Living versus Boutique Senior Living
Large, traditional senior living communities aren't the only option. There is an alternative known as boutique senior living. Here's how they compare.
In a traditional senior living community, your options may include assisted living which offers housing, onsite care and support with daily activities; and memory care which offers specialized care for those with Alzheimer's disease and dementia. Often, both types of care are offered on one large campus.
Boutique senior living offers care in a residential setting. You may not be familiar with it, but the concept is gaining in popularity for blending the comfort of home with the care and amenities of senior living. We are licensed for both assisted living and memory care in our homes as well.
Transitioning to a community of any size has its challenges. Learn more about how to make it a comfortable process in "What To Do When Feeling Lost in a Big Senior Living Community"
5. Everyday life in boutique senior living
What is daily life really like? More importantly, how much different is it than the institutional, crowded feel of traditional senior living? Here's what a resident might experience during a typical day in one of our beautiful assisted living or memory care homes.
At Shepherd Premier Boutique Senior Living, our activity program is designed to engage our residents in meaningful activities that promote cognitive, sensory and physical stimulation. Through a thoughtful combination of music therapy, arts and crafts, pet therapy, fitness, games, reminiscing, sensory and touch therapies, outings and in-home performances residents have endless opportunities to enjoy life. What's more, everything is tailored to the abilities and interests of the residents in our homes.
Curious about how you would spend your morning? Afternoon? Evening? Keep reading Inside The House: A Day in The Life of A Boutique Senior Living Resident and get the scoop.
6. If I lived at home, I could set the table. (You still can!)
It's no secret that most people want to age at home. The reality is that may not always be possible. For many, that means moving to senior living. But many large campuses and institutional environment feel nothing like home. What's more, even if your loved one needs help with some daily activities most seniors still want to be as independent as possible – helping with meals, shopping, running errands – which aren't really an option in traditional senior living. But there is an alternative: boutique senior living.
We treat our residents with the dignity and respect they deserve, and encourage them to be as active and engaged as possible, just like they would at home—so they can go to the grocery, set the tale, and engage as they choose. Learn more at Understanding Immersive Activity Programs in Boutique Senior Living.
7. Staying active helps you stay young
According to the CDC, 31 million adults age 50 or older are inactive. What's more, a U.S. National Health and Nutrition Examination Survey found that 67 percent of adults aged 60 and older are sedentary for at least 8.5 hours a day. Yet, staying active is a crucial part of healthy aging with benefits that include preventing falls as well as a lower risk of numerous diseases and even premature death. Not to mention the mental benefits such as improved mood, focus, sleep and reduced stress.
Whether the disconnect lies in not knowing where to start, fear of injury, not wanting to do it alone or lack of access, we can help. Check out tips for staying active and how senior living can make it easier in Tips For Staying Active as You Age (And How Senior Living Helps).
Research has consistently agreed that nature benefits us in a number of ways, particularly as we age. This is why our boutique senior living homes are built in peaceful, rural neighborhoods, offering nature's benefits for seniors.
We've all felt the weight lift from our shoulders in the warm sunshine, enjoyed the breath of fresh air that clears your head and can't help but smile at seeing the flowers bloom. According to the UC Berkley Greater Good Science Center, over 100 studies have shown this is not just a coincidence. Spending time in nature can improve quality of life as you age by providing important benefits for emotional and physical health. Learn more at Get Back to Nature in Boutique Senior Living.
9. Positive thinking and feeling
When it comes to healthy aging, most people think about physical health. What you can do to keep your bones strong, heart healthy and reduce your risk of disease, for example. But overall wellness isn't just the physical. It also includes mental and emotional health which in many cases can be even harder to maintain as you age, particularly when living alone.
Our thoughts, feelings, beliefs and attitudes can positively or negatively affect us physically just as what we eat, how much we exercise and so on can affect our mental and emotional state. Research has found that emotions such as worry, anger and unhappiness can increase the risk of developing or worsening heart disease, arthritis and other chronic health conditions.
In How Senior Living Helps You Stay Mentally Strong, you'll find a number of things you can do to improve mental and emotional well-being.
10. Safe at home…or moving on?
It's a given that most seniors want to stay home for as long as possible. But, is your home as safe as it could be to accommodate your evolving needs? And, at what point should you consider a move to senior living, due to issues with mobility, vision, hearing, balance, or cognitive impairments?
In Home Safety Tips for Seniors (And When it Might Be Time to Move), you can check out hidden home dangers, safety tips, and a senior living option that might ease the transition when it does come time to move.
If you're looking for senior care, we know how confusing it can be. Luckily you have plenty of options from which to choose, but where do you start? The answer is surprisingly simple: with your needs and wants.
That's right, senior care today is focused on the level of support needed as well as your lifestyle preferences. That ensures you can find just the right fit whether it's at home, in senior living or in residential care. In Which Type of Senior Care is Best For Your Loved One, we'll show you how, and help you compare. We'll also compare the pros and cons of care at home, in senior living and in residential care.
The Pew Research Center reports that 27% of adults ages 60 and older in the United States now live alone. Whether it's because of necessity or choice, living alone poses a number of concerns for seniors such as safety, accidents and perhaps one of the most dangerous – social isolation. Why is social isolation so dangerous? It can put seniors at greater risk for high blood pressure, heart disease, obesity, a weakened immune system, anxiety, depression, cognitive decline, Alzheimer's disease and even premature death according to the National Institute on Aging.
Many people equate social isolation with loneliness, but they are actually very different! In How Boutique Senior Living Can Help Your Loved One Avoid the Dangers of Isolation, you can learn more about the health risks of prolonged isolation and how boutique senior living can help your loved one not avoid social isolation, but also thrive.
13. Comfort zone that feels like home
Let's be honest, no one is exactly 'over the moon' to move from home to senior living. Even if it's the best practical decision; a change this big can be scary and emotional. What's more, if your loved one is moving to traditional senior living, the institutional feel and large campus can be such a stark change from home the transition may be even more daunting. But it doesn't have to be that way. Residential care offers an alternative. See how it blends the best of home and senior living.
Common Fears for Seniors
Behind that hesitancy to leave home are some very real fears. Regardless of where, it's important to understand what this move represents for your loved one as it relates to getting older. The most common fears for seniors are:
Loss of independence
Running out of money
Having to depend on others
Not being able to drive
Being isolated and lonely
Falling or becoming incapacitated
Let them know it's OK to open up to you. Your empathy and patience will give them comfort and may even strengthen your relationship. It can most certainly help you gauge the senior living setting in which your loved one will be most comfortable. Read Easing the Transition From Home to Residential Care to learn more.
14. A little help, a lot of happy
Has your loved one had a recent health scare? Is a chronic condition worsening? Are you concerned about their safety at home alone? Is it becoming harder for them to manage the household or their personal hygiene? If the answer is 'yes' to one or more of these questions, you may be considering assisted living for them. Making this decision is never easy, but you may not realize that there is an alternative to large, traditional assisted living communities.
In Benefits of Assisted Living in Residential Settings, you'll learn how your loved one can enjoy personalized care and support, as well as the comfort of an intimate, friendly environment that feels like an extended family.
15. This feels familiar: memory care in a small setting
Not all memory care is provided in a large, senior living community setting like you may imagine. Of course, nothing can compare to your loved one's own home, but when the time comes the transition to boutique senior living may be easier than to a large community. In fact, boutique senior living offers memory care in cozy, residential homes with a 1-to-5 caregiver-to- resident ratio, where residents benefit from a smaller, more personalized and peaceful homelike experience which is more similar to what your loved one has experienced so far at home.
But before considering the right setting for your loved one, it's important to have a clear understanding of what memory care is and what your loved one can expect. You'll find this and more in Benefits of Memory Care in Residential settings.
16. Fewer residents + more attention = right ratio
When searching for senior living for your loved one there's so much to consider. There are the accommodations, the food, the amenities and services available, the activity options and the location just to start. It can easily become overwhelming and much of it is subjective. For example, what feels like a welcoming environment to you may not at all for another family. Bells and whistles aside, what's most important is the care and attention your loved one will receive. Fortunately there is a clear indicator of this: the caregiver to resident ratio.
Quite simply, the caregiver-to-resident ratio shows how many residents each staff member is charged with caring for at a given time. It's important to understand that there's no national standard for this in assisted living. So, you'll see this number vary greatly across communities with some even as high as one caregiver to 20 residents! Find out what it means to have fewer residents in a staff member's care, and why boutique senior living makes this possible by reading Why Caregiver-to-Resident Ratios matter.
17. The conversation: talking with Mom and Dad
Of all the important conversations you and your parents will have over the years, one of the most difficult to begin may be "the talk" about senior living. How will mom react? Has dad been thinking the same thing? Is mom willing to move from the comfort of home to a large, unfamiliar community? Will they take your concerns to heart?
There's only one way to know, but it's important you keep some dos and don'ts in mind. We've got some useful tips as well as information on how boutique senior living can make the transition easier for you both. Just click here: How to Talk to Your Parents About Boutique Senior Living.
According to the National Alliance for Caregiving and AARP, there are currently nearly 48 million caregivers in the United States. If you're one of them you know all too well the rollercoaster of emotions it involves. One of the biggest is guilt, to the point where many continue to put off moving a loved one to senior living even though it would benefit their health and safety. Letting Go of the Guilt of Senior Living can help you make the best decisions for your loved one.
19. A bonus for caregivers
We want to be there when our loved ones need help. Perhaps that's why there are currently nearly 48 million caregivers in the United States, according to the National Alliance for Caregiving and AARP. But for all the reward caregiving offers, a tremendous amount of stress goes with it too. If left unchecked that stress can be detrimental to your own health.
While it can certainly feel isolating to be a caregiver, you're not alone in the challenges you face. Learn how boutique senior living can help you and your loved one at Benefits of Boutique Senior Living For Caregivers.
To us, creating an alternative to the institutional feel of traditional senior living is personal. In fact, it's inspired by the experiences of our founders with their own families in senior living. That's why it's so important to us that our residents live with dignity and enjoy active, enriching lives in a safe, comfortable home setting. Yes, we said home setting. Boutique senior living is actually residential care provided in a single-family home! We think it blends the best of both worlds – the comfort of home with the quality care and amenities of traditional senior living.
For more on how Shepherd Premier blends the best of home and senior living, and testimonials from family members, check out What Families Say About Boutique Senior Living.
21. Knowing when to get more help
We've said it before, considering senior living for your loved one is one of the hardest things you'll ever do as a family. Even harder when you don't really know if it's time or not. We're often asked: "Is there a way to know for sure?" Most of the time there are a number of subtle signs rather than one telling event.
5 Signs It's Time for Extra Support From Assisted Living can help you determine if your loved one could benefit from more attention and assistance.
22. It might be time for memory care.
A diagnosis of Alzheimer's disease or dementia for your loved one may leave you with more questions than answers. What can you expect? Can you provide them adequate care at home? What are your options when more support is needed? We can help by sharing the signs that might indicate your loved one would benefit from memory care. And why the transition to memory care in a residential setting is often easier on the entire family.
What to Watch For
As you likely know, Alzheimer's is a progressive disease. While in the early stages, most seniors are able to remain largely independent with a strong support system in place. Seniors with late- stage Alzheimer's disease will need 24/7 care. It's in the middle stage that behaviors such as wandering, disrupted sleeping and/or eating patterns as well as increased anxiety and irritability emerge. It's usually within this stage that it's time to consider memory care. Three Signs It's Time for Memory Care gives more detail on issues regarding safety, health and emotional wellbeing, as well as what to watch for in your loved one. You'll also learn the benefits offered by boutique senior living and what your loved one can expect.